Compare cell phone deals at All World Cell Phones for the best U.S. wireless service offers as well as money-saving international cell phone plans. We have partnered with all the major providers of cellular and digital PCS service to bring you the largest assortment of cellphone plans on the internet. New plans and deals are added regularly so check back often if you don't see a cellular plan that meets your particular needs!
U.S. Cellular / Wireless Phone Plans
Comparison Shop Postpaid U.S. Cell Phone Plans & Phones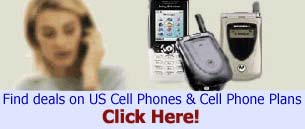 All World Cell Phones is proud to do business with the leading wireless phone companies; all of which have agreed to lower their cell phone rates for visitors of this web site.
Here are just a few of the wireless companies whose cell phone plans are offered through our site.

U.S. Prepaid and No Contract Cell Phone Plans
If you are unable to qualify for post-paid cell phone service, or you simply prefer to avoid committing to a long-term contract, you can still enjoy all of the benefits and features of regular postpaid cell phone service by taking advantage of our selection of prepaid cellular and no contract pay-as-you-go cell phone services.
International Cell Phone Services
International Cell Phone Service for Travellers - Prepaid International Cell Phones and Service
Traveling abroad and you want to be able to make cell phone calls from overseas? You may be surprised to learn that the vast majority of cell phones in use in the United States do not work outside of North America. Not only that, but those U.S. based cell phone services that do allow you to make calls from overseas charge outrageous "international roaming" fees. Most international cell phone rentals also have extremely high per minute rates.
With prepaid international wireless, you're always in control of how much you spend and, since there are no monthly bills, you can decide ahead of time how much you or your business will spend on cell phone calls. Global travelers, by leveraging local prepaid wireless products enjoy even more savings by avoiding:
High roaming charges
International cell phone roaming charges can be outrageous! By using an unlocked GSM world phone with a prepaid SIM card you can avoid these ridiculously high fees.

and ...

Rental fees
When you rent you are charged a flat rate for the mobile phone and a ridiculously high usage rate per minute. If you buy a GSM cell phone it will pay for itself after your first trip!
Mobile Phones and Mobile Phone Service for UK, Australia and Germany Residents
In addition to offering international cell phone plans for travellers, we are now able to offer great deals on mobile phone service for residents of the United Kingdom, Australia and Germany. CLICK HERE FOR DETAILS!
WANT TO MAKE CHEAP INTERNATIONAL CALLS FROM YOUR CELL PHONE? WE HAVE SOLUTIONS!
Cell phone international rates are typically astronomical. Due to the vast range of tariffs and different savings options associated with mobile phone plans, most people are unaware of their own pricing plans and thus wind up paying much higher rates than necessary for their overseas calls. Using portable dial-around service (from the U.S.) or international callback (from outside of the U.S.) allows cell phone users to make cheap international calls at traditionally lower fixed voice plan rates or even better. The savings can often be as high as 90%!
Money Saving Plans For Placing International Calls From Cell Phones
Discount International Long Distance for USA Cell Phone Users
Discount International Long Distance for USA Cell Phone Users (PREPAID SERVICE)

To use TEL3Advantage prepaid phone service, all you have to do is register your cell phone number and then you can make all the international calls you want while enjoying some of the lowest rates available anywhere.

Tel3Advantage rates start as low as 1.9¢ per minute and you can make calls to over 200 countries for less than a 10¢ a minute (Local Access).

Click here for details!

International calling savings for USA cell phone users (POSTPAID SERVICE)
Are you a mobile phone user in the USA with an unlimited national calling plan? If so, this is a great plan for you. US Mobile Connect's low international rates are often as much as 90% less than those offered with most cell phone plans. To use this service you simply call UWT's Miami-based (Area Code 305) local access number*. If you have a national unlimited calling plan, your mobile provider won't charge you for this call. Click here for details!

*Toll-free number access is also available for an additional 3.2¢ per minute.

US Mobile Connect Rates compared with Sprint PCS and Nextel

Per Minute Rates from USA to:

UK

Germany

Japan

China

Brazil

Sprint PCS

$0.49

$0.63

$0.78

$1.59

$1.01

Nextel

$0.39

$0.39

$0.49

$1.99

$0.69

US Mobile Connect

$0.06

$0.04

$0.08

$0.07

$0.13

% SAVED versus Sprint PCS**

89%

93%

90%

96%

87%


**percentage saved presumes unlimited national long distance cellular plan!
Discount International Long Distance for Mobile Phone Users Anywhere in the World
Callback Service - Worldwide availability and ideal for use with mobile phone plans w/free incoming minutes (POSTPAID SERVICE)
International Callback Service is often an excellent option for those who need to place international calls from wireless phones (or any other phones) when outside of the U.S.A. Click here for details!